Career
On this page, we publish job advertisements, you are able to apply for. Alternatively, we also accept initiative job applications at any time.
Gesellschaft für Akustikforschung Dresden mbH
The Gesellschaft für Akustikforschung Dresden mbH works in the fields of machinery acoustics, environmental acoustics as well as architectural acoustics and room acoustics. We offer our clients acoustic measurements, the determination of material parameters, the acoustic design of facilities, machinery, devices and building components as well as consultancy in all matters of acoustics and noise reduction. Beyond that, we develop acoustic measuring equipment and application software.
Our special fields are sound absorbers and silencers, numerical analysis, structure-borne sound, active noise cancellation (ANC) and the technical localization of sound sources. For that reason, for more than 15 years, we are a successful partner of internationally leading companies in the fields of automotive and shipping industry, machinery industry, building and road construction as well as federal and public authorities, Universities and other educational and research institutions.
Job advertisements Dresden
Below, you find our current job advertisements in pdf format for download.
Mandatory Internship, Bachelor, Master, Diploma, Voluntary Internship, Student Assistant
We support young becoming engineers in their studies. We give them the possibility, within their student projects, to participate in interesting and cutting-edge topics of research and development in the fields of technical acoustics, machinery acoustics, engineering acoustics and digital signal processing and we offer them a competent technical mentoring during their work at their mandatory internship, bachelor's thesis, master's thesis or diploma's degree. Within a voluntary internship or a work as student assistant you can gain a deeper impression in the practical work of an acoustic engineer.
In case, you are interested in a mandetory internship or a student project, just contact us. There is never a lack of technical topics, also in case there is no current announcement underneath this rubric on our website.
Currently, we offer you to work at a mandatory internship / bachelor's thesis / master's thesis / diploma's degree with the topic "Noise in mufflers for air-conditioning plants".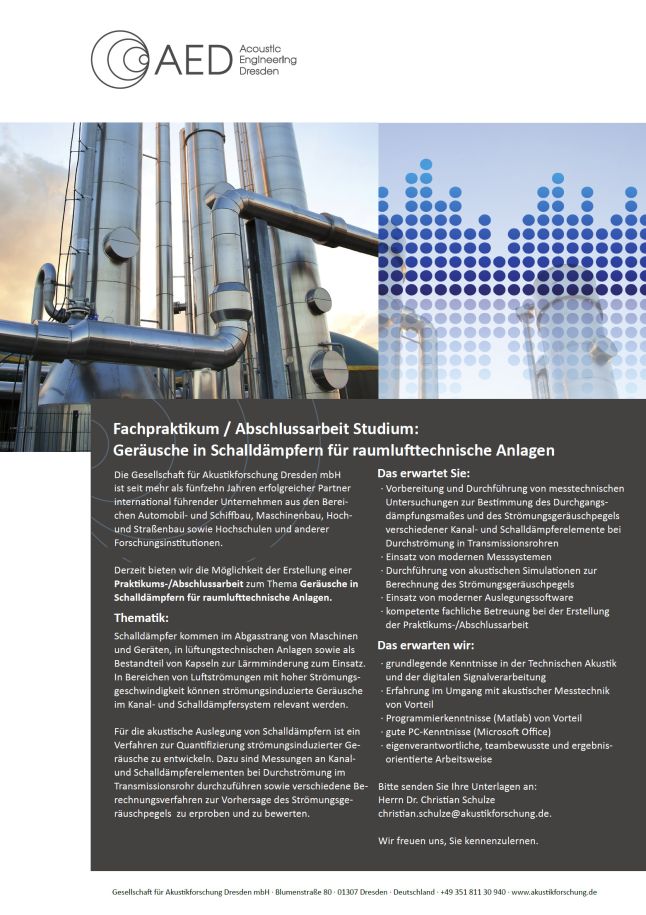 Currently, we offer you to work at a mandatory internship / bachelor's thesis / master's thesis / diploma's degree with the topic "Test procedure for sound absorbers for roomacoustical applications".