Quiet Road Traffic 3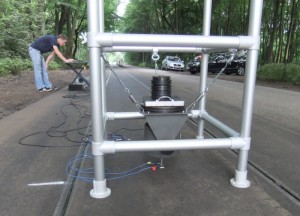 The partners that are involved in the joint research project "Quiet Road Traffic 3" (Leistra3) aim to develop methods to reduce the noise emission within urban areas of high population density. The Gesellschaft für Akustikforschung contributes to investigations to apply "Novel constructions of noise-reducing effect".
By installing flexible "isolating mattings" below the asphalt road surface (elastic intermediate layers), vibrations are to be minimized causing a reduction of the noise level of about three to four decibels. First examinations on a test track in Hamburg occured very promising. The evaluation of noise emissions of different track sections took place by measurement of the mechanical input impedance of the road surface as well as by applying a rolling noise trailer.