DAGA 2015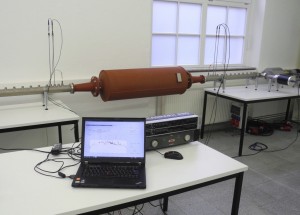 On the 41st Annual German Congress on Acoustics (DAGA 2015) from 16th to 19th of March 2015 in Nürnberg, the Akustikforschung Dresden mbH presents a novel test setup for measuring the transmission loss of mufflers and silencers in the laboratory. Besides considerably less required space, the test setup possesses two essential advantages.
On the one hand, the connection of a heat source allows the direct measurement of the transmission loss of silencers and mufflers at high temperatures. On the other hand, the applied measurement procedure allows the determination of both the spectral transmission loss and the complex transfer matrix of the muffler.
By importing the transfer matrix in a calculation software, the acoustic efficiency of the measured muffler in combination with arbitrary peripheral components can be determined.
To the conference of DAGA 2015.