DAGA 2016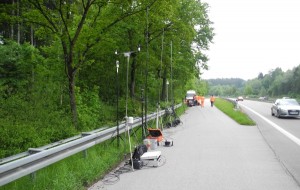 On the 42nd Annual German Congress on Acoustics (DAGA 2016) from 14th to 17th of March 2016 in Aachen, the Akustikforschung Dresden mbH presents results of the investigation of the influence of systematic errors regarding the application of the statistical pass-by method.
The procedure of statistical pass-by (SPB) is one of two standardized measurement methods to determine the influence of road surfaces on the traffic noise. Despite a detailed manual regarding the application of the standardized method according to DIN EN ISO 11819-1, several possible systematic error sources are inherent in the application of the test procedure.
On the one hand, the standard can be interpreted differently with respect to the positioning of the microphone. On the other hand, the classification of a valid pass-by with respect to both the background noise and the selection of single vehicles to be measured from the overall vehicle collective passing by is possibly problematic. Especially, the assignment of the measured vehicles to a specific vehicle category is not definite in all cases.
In order to identify the influence of the error sources mentioned above, measurements were carried out simultaneously by four independent testing institutes at the same test site (round robin test). The results of these measurements are going to be presented.
To the conference of DAGA 2016.