Compression specimen holder for impedance tube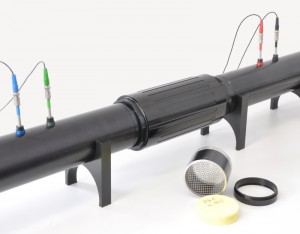 As of now, a novel compression specimen holder extends the application range of the impedance tube AcoustiTube® and the airflow resistivity meter AcoustiFlow®.
The specimen holder can be continuously adjusted in length and allows the defined compression of cylindrical specimens to measure the sound absorption coefficient, transmission loss, absorber values and the airflow resistance. Also, fills, thin fabrics as well as multilayer systems can be installed with control.