New website goes live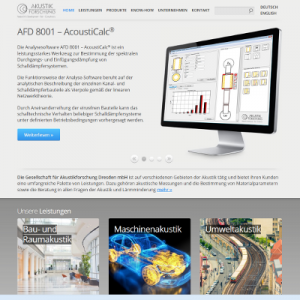 Since March 2013, the internet presence of Gesellschaft für Akustikforschung Dresden mbH appears in a new design. The new website offers customers, service providers, partner enterprises and clients a quick access to services of the Dresden company and detailed information and news on products, research projects and cooperations in the fields of science and research.
Under Services prospective customers get an overview about the activities of the company in the fields of architectural acoustics, machinery acoustics and environmental acoustics.
Since 2006, the company develops and sales specific analysis software and acoustic measuring systems for application in the laboratory as well as in situ. New to the product line is the analysis software AcoustiCalc® Silencer for acoustic design and evaluation of silencer and muffler systems. More details about measuring instruments and related software, users can find out in the section Products.
Under Know-how, interested parties can read about various testing procedures and testing facilities the Gesellschaft für Akustikforschung Dresden mbH uses.