Technical Noise Protection – Edition 3 – Publication successful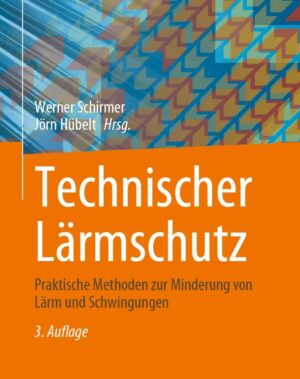 We are glad to announce that the electronic edition of the book "Technical Noise Protection – Practical Methods for Reduction of Noise and Vibrations" was successfully published.
Content
This technical book deals with the technical noise protection as well as the protection against vibrations connected closely. It contains physical explainations, methods for design, measurement and evaluation as well as many quotes of literature and standards and features numerous figures and tables. The presentation orientates at compact advances trainings for engineers.
For this new edition, the technical book – last time released in 2006 – was extensively updated, especially in the areas of testing methods and the acoustic design of silencers and mufflers*, in which the original conception was kept the same. It is suitable for the dayly work of engineers as well as for study and individual extension of knowledge.
Editors
Werner Schirmer studied electrical engineering from 1951 at the Technical University Dresden. He was assistent of Prof. Reichardt at the local Institute for Technical Acoustics. From 1964 he acted as industrial head of the department of defense against noise and vibrations at VEB Schwingungstechnik und Akustik Dresden. In 1971 latter one became research department of the Central Institute of Industrial Safety, later Federal Institute of Industrial Safety, both Dresden. During this time the first edition of the book Noise Control, from 1996 Technical Noise Protection, was published. Furthermore, Werner Schirmer worked for 10 years as a lecturer for the postgradual studies Noise Protection at the University of Technology Dresden. Since 1993 Consulting Engineer, focuses machinery and architectural acoustics, protection of machines and devices against vibrations in the companies Kötter Beratende Ingenieure GmbH and Schirmer Beratende Ingenieure GmbH, both Dresden, since 2011 as Senior Consultant.
Jörn Hübelt studied at the University of Technology Dresden in the discipline electrical engineering with the specialization technical acoustics and received a doctor's degree at the Institute of Acoustics and Speech Communication of the University of Technology about the topic: "Sound fields above open porous road pavements". In the year 2002 he founded the Gesellschaft für Akustikforschung Dresden mbH. The field of work of the company can be summarized by the term "Engineering Acoustics" in the field of mechanical und vehicle engineering as well as structural engineering with focuses on sound absorbers as well as mufflers and silencers. In 2007 Jörn Hübelt was appointed professor for the field of teaching technical mechanics and acoustics at the University for Apllied Sciences Mittweida.
*The chapter "Muffler and Silencers" was revised amongst others by the directing manager of the Gesellschaft für Akustikforschung Dresden mbH Mr. Mirko Ruhnau.
Bibliography
Title: Technical Noise Protection – Practical Methods for Reduction of Noise and Vibrations
Publisher: Springer-Verlag GmbH Deutschland, a part of Springer Nature 2023
Hardcover: ISBN: 978-3-662-65667-9, published: May, 6th 2023
eBook: ISBN: 978-3-662-65668-6, published: May, 5th 2023
Edition: 3
Number of pages: XXVII, 646